Let me tell you, if you are a contrarian investor and looking for a place to hunt for bargains, this is it.
Are you familiar with the S&P/TSX Venture Composite Index? Standard and Poors describes this index as 'a broad market indicator of Canadian micro cap securities in Canada.'
This index of stocks has been beaten down relentlessly.
Check out the performance for the index over its recent history. It is truly a chart that only a bargain hunter could love.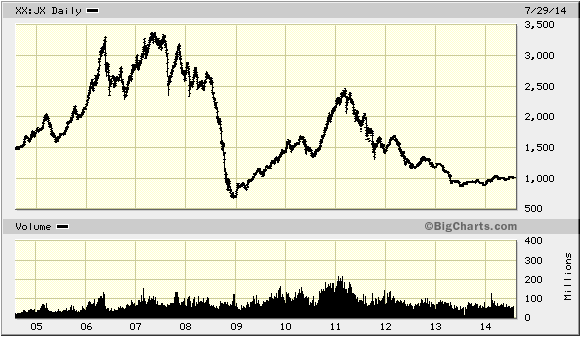 This entire index of stocks needs to increase by 250% just to get back to where it was in early 2011. The performance of this index has been so miserable that today a full five years after the global financial crisis stock prices are back near the lows seen in those dark days.
This performance is terrible on its own. When you compare it with the S&P 500 (which has nearly tripled from the March 2009 lows) it is almost indescribably bad.
It almost goes without saying -- given how beaten down these stocks are -- buying a basket of them might seem counterintuitive. But I see a big opportunity starting to open up.
Pinetree Capital (TSE: PNP, OTC: PNPFF) is a diversified investment, financial advisory and venture capital firm focused on the Canadian (mostly) small cap market.
Pinetree holds an investment portfolio that is focused primarily in the resources sector: precious metals, base metals, oil & gas, potash, lithium and rare earths, uranium and coal. On March 31, Pinetree had 185 investments with a Fair Value of approximately $163 million, making this a very diversified portfolio.
The most interesting thing about Pinetree Capital is that the net asset value per share of the company (the quoted price for its publicly held securities less debt outstanding) is $0.78 per share while the current share price is only $0.42.
That's nearly an 86% upside.
Investors buying Pinetree aren't just buying a basket of beaten-down stocks, they are also buying those stocks at roughly half their current market value.
In short, if Pinetree liquidated its assets today, it could repay its debts and have $0.78 per share that could be distributed to shareholders. Paying $0.42 per share for that looks like a bargain to me.
Pinetree Capital was founded in 1992 by Sheldon Inwentash as a vehicle to invest in technology companies. After navigating the technology bubble, Pinetree switched its focus to the precious metals area to take advantage of emerging markets.
Pinetree casts a wide net when making investments and therefore owns a large number of stocks.
Pinetree initially gets in at the "seed" level by making a small investment when companies aren't much more than an idea. If that young company continues to show promise then Pinetree will add to its position and allow its winners to grow.
I'm not particularly bullish or bearish on the abilities of Pinetree to make great investments. I'm most interested in this company because it holds numerous stocks in the beaten-down sector that I want to get exposure to. And the fact that Pinetree is currently trading at half its net asset value is compelling.
The resource companies in the S&P/TSX Venture Index have had 10 years of capital infusions and retained earnings to further increase the value of their companies. Retained earnings alone should likely double the value of an index over a 10 year period.
These are oversold stocks and Pinetree Capital offers those oversold stocks at a further discount.
Risks to Consider: This is a very volatile area so keep your position size modest. Pinetree itself is a small company and the companies it has investments in are also young businesses.