Quality investing ideas come from many places. Peter Lynch, the very successful fund manager, listened carefully to his wife whenever she spoke about a new product that she thought was superb. Mr. Lynch liked to walk around the malls to see which brand names covered the shopping bags people were carrying.
Finding good investing ideas can seem like a daunting task unless you know where to look. However, if you're having the opposite problem, and you find that you think every stock idea is a good one, that's also a sign of trouble.Here are five great ways to find quality companies that make you a smarter investor and will enhance your portfolio. [Want to know the five paths to financial ruin? Read The 5 Most Dangerous Places to Get Investing Advice.]
1) Invest in what you know. If you understand a business, or an industry sector, you could have the upper hand when it comes to buying its stock. Whether they're working on the oil rigs in Alberta or as a buyer for a grocery store, most people can be considered an expert in something. Your knowledge gives you an advantage over the vast majority of investors. You know firsthand the important performance drivers. When you look at a company from an industry you understand, your insight will give an advantage. Use it, as long it isn't insider information.
Warren Buffett calls this his "circle of competence." The counter to this idea is to avoid those industries where you have no special insight.
2) Look and listen. This is a corollary to investing in what you know. As you go about your daily activities, you will encounter a number of companies that might be good investing candidates. Ask questions of the people who work for the company to try to identify any new but not widely known initiatives. If the employees are excited about the company, it might be a good prospect worthy of more research. 
About a year ago, my daughter mentioned she liked Coach (NYSE: COH) bags. When some of her friends spent a few days at our home, I noticed most of them had Coach handbags as well. Becoming more aware of the brand, I looked more carefully wherever I went and saw more Coach products. After doing my due diligence, I decided to buy some shares, a move which has turned out to be pretty profitable.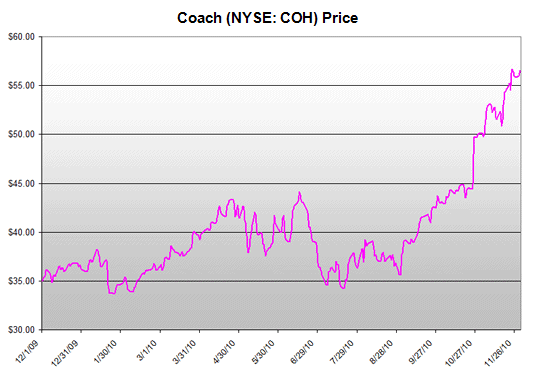 Look and listen, and you might find the next good investing opportunity. I even found one at my dentist's office -- a dental product manufacturer called DENTSPLY International (Nasdaq: XRAY). It looks like it has some potential, though I need to do more research.
3) Narrow down the investing universe with stock screeners. With about 20,000 stocks available for investing, it is a daunting task to find good companies that offer appreciation potential. Fortunately, there are stock screeners that allow you to sort through all the data on companies to find the ones that meet your criteria.
These tools use a wide variety of criteria such as P/E ratios, market capitalization, revenue growth, free cash flow, and sector to help you find stocks that might be of interest. As with any tool, it helps to practice using it before you make any purposeful selections.
Stock screeners work best when you have an investing theme in mind, such as value stocks that are growing revenues at a double-digit rate (greater than 10%). You may need to add some other qualifiers depending on the number of stocks the screen generates.
Remember, while stock screeners are a great place to start your research, they're not a good place to end it. Once you've found a handful of companies that fit your investing criteria, read up on each and narrow your choice down to the best one or two.
4) Subscribe to a few quality newsletters. There are many stock investing newsletters. Some do a fine job of selecting and analyzing stocks. Others are basic promoters of the hot stock of the day stock without any rational analysis.
If you can find a few good stock analysts, they can perform much of your research for you. Not only will a good newsletter give you some good investing ideas, their approach is a teaching tool as well.
Select newsletters that give you different points of view. That way you can assess their arguments to help find the best stocks for your investing style.
Be careful the sites you use do not front run their recommendations to pump up their performance. The quality sites tell you in advance they will buy a stock and the price they intend to pay. They also give you an exit strategy to either collect your profits or limit your losses.
[Our sister site, StreetAuthority.com, offers a wide range of conflict-free investing newsletters, including newsletters for growth investors, income investors and value investors. Click here to see if any of them suit your style.]
5) Read a lot. Successful investors know they should have different perspectives on the market, sectors and companies. They read periodicals and blogs that give them different views of the market. 
The more insight you have on the market or the economy, the better investor you will be. Reading gives you the knowledge and confidence to make good investing decisions. When you understand why the economy, a sector, and a company are behaving a certain way, you can make an informed decision.
Many good investing ideas are all around you. You don't have to spend a lot of money to find really good ones. However, it will take discipline and in the end, you'll still need to do your homework. By following these ideas, you will find many good investment opportunities worth an in depth review.